Temporary Portable Roadway Mats
Manufactured from Re-cycled Polyethylene,the extensive Portatrak range of Mats from 6mm to 18mm thick is designed to suit your needs
Portatrak has been designed to be installed without special
equipment or vehicles. The Mats can be unloaded by two men
and laid without previous experience.
Being a non-metal system capable of taking heavy duty wear, including metal tracked machines, Portatrak offers a highly cost effective alternative to other systems.
Portatrak also reduces the risk of theft, unlike aluminium tracks
Advantages of Portatrak
Maintenance Free
Rot Proof
Will not split
Will not splinter
Will not absorb water
Store outside
Environmentally friendly
100 % recyclable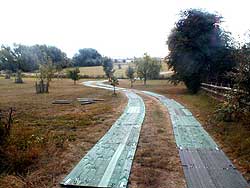 No special transport vehicles or installation equipment is required.

MATS FROM £52.94
View our Ground Protection
PDF for more information.