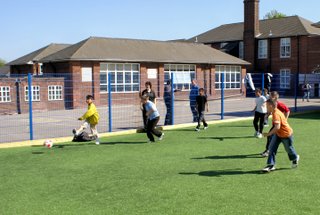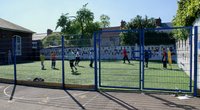 Alston Primary School in Birmingham has invested in a Sportslawn pitch for its 700 pupils.
The school only had tarmac playgrounds for the children, many of whom have little access to green areas at home .
The pitch was installed in three days by Sportslawn, directly on top of the existing tarmac surface. The sand and rubber filled soccer carpet, loose laid on the Sportbase panels has resulted in a professional standard playing surface that the children adore. They are now able to jump for the ball and slide tackle with complete confidence.
Paul Sharrock, the Deputy Head Teacher initiated the project and worked tirelessly raising money for this facility. ' The children are so pleased with the pitch, ' he says 'I know it's going to make a huge difference to them and I'm proud to have been able to make such a positive change to the school'.
The school were very impressed with the speed and efficiency with which the pitch was installed. The competative prices offered by Sportslawn provided a solution to the problem of continual use of tarmac for sports and play.